Opera Contemporary applies geometric decoration to elegant furniture, capable of bringing an exclusive character to any space, in perfect tune with the cosmopolitan language and sartorial approach epitomized by the brand's refined contemporary style, with minimal silhouettes, enhanced by a range of vivid finishes, 

fine wor

kmanship and decorative motifs.





The geometric figure of the rhombus typical of the patterns of Opera Contemporary becomes the unrivaled fil rouge that connects the various zones of the domestic landscape. In the dining area the Hilary chairs, with high backs, are enhanced on the outside by elegant diamond quilting, for a seductive image that gives rise to a fascinating atmosphere, making moments of convivial enjoyment become exclusive.




In the Victor series, composed of cabinets and bedside units in solid Canaletto walnut or ash, finely honed graphic effects provide the lexicon for a narrative of Opera Contemporary's woodworking expertise. The bar cabinet is of great sculptural impact, underscored by bas reliefs that decorate the doors: impeccable craftsmanship that brings out the noble character of the wood and adds personality to any space.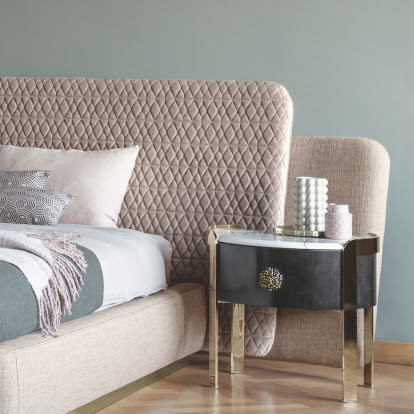 Balanced symmetry and lightness of formgenerate the timeless charm in the bedroom zone, where the geometric theme is suggested in a light and dynamic way by the quilted headboard, in  the striking visual effects of the Sheila bed, always in a context of contemporary style marked by elegance and sartorial allure, creating a distinctive total look, the true trademark of the brand.




The eye-catcher in the home office is the Erikdesk, featuring a harmonious combination of high-quality materials, like the top in Canaletto walnut supported by a built-in chest of drawers, crafted with the diamond pattern and standing on a cylindrical base finished in metal. Diamond patterns on textiles for the chair and wood for the desk, in dialogue with sculptural metals bring elegance to all interiors.
Living area, dining room, bedroom zone and home office: every space in the home is characterized by furnishings, materials, finishes and decorative patterns that stand out for their elegance, contemporary language and sophisticated crafted excellence.