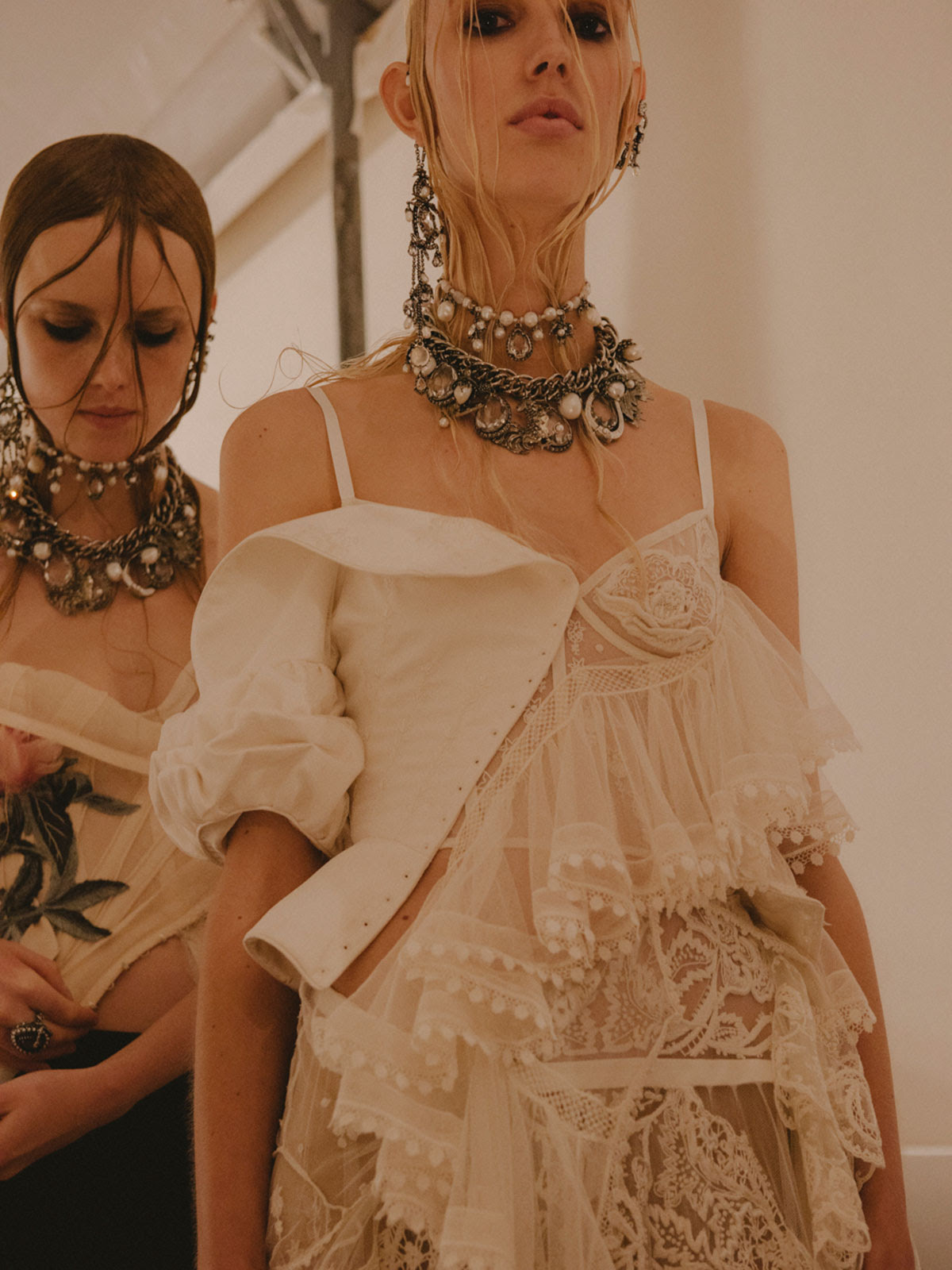 The Collection
---
Deconstructed gabardine trench coats are panelled with rosebud silk jacquards. Softly corseted, ruffled knit dresses with fifties lingerie detailing are cut away at the waistline; some have looping crinoline skirts. A bone leather coat is pieced and patched with quilted floral and striped mattress silks. Bonded plongé leather peplum jackets are worn off the shoulder and over raw-edged leather skirts embellished with gold and silver hardware. Wool silk cavalry twill riding jackets and coats with a masculine shoulder are panelled with checks and layered over raw-edged leather trousers. Oversized, slashed mouliné knit sweaters are embroidered with heirloom brooches.
---
Checked silk cotton kilt dresses are deconstructed and buttoned to the throat. Pleated glass organza gingham and floral print dresses are worn over a soft cotton tulle corset. A waxed leather coat and jacket are pieced together with a chevron check. Tailored suits in varying scales of houndstooth have a broad shoulder, exaggerated, rounded hip and cropped, kickback trouser. Silver leather is embroidered with white garden flowers. Engineered fil coupé dégradé tweed dresses are worn with a shredded peony tweed coat embroidered with pearls. A leather harnessed tapestry dress is embroidered with garden roses. An exploded deconstructed vintage denim jacket is worn with a pieced skirt hemmed with antique floral handkerchief cotton. Transparent glass organza dresses are printed with layers of roses and explode with pleated necklines and full, tiered skirts.
---
A tuxedo dress coat in black wool silk and a silk faille corset dress have draped ruffle flower skirts. A silk wool tuxedo jacket with exploded rose taffeta sleeves is worn with kickback tuxedo trousers. Deconstructed heirloom dresses are shredded and cut in a mix of floral jacquard, washed organza and silk tulle. Inside-out skeletal taffeta gowns are embroidered with trailing, three-dimensional blooms.